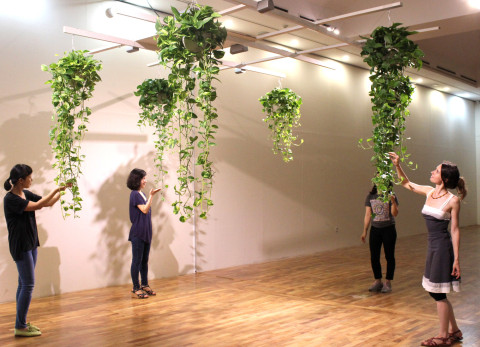 The couple artists Gregory Lasserre and Anais met den Ancxt work under the name Scenocosme.

Their singular artworks use diverse expressions: interactive installations, visual art, digital art, sound art, collective performances etc.... Scenocosme mix art and digital technology to find substances of dreams, poetry, sensitivity and delicacy. These artists overturn various technologies in order to create contemporary artworks. Their works came from possible hybridizations between the technology and living world (plants, stones, water, wood, humans.,..) which meeting points incite them to invent sensitive and poetic languages. The most of their interactive artworks feel several various relationships between the body and the environment. They can feel energetic variations of living beings and design interactive stagings in which spectators share extraordinary sensory experiences.

Their artworks are exhibited in numerous museums, contemporary art centres and digital art festivals in the world.

They have exhibited their interactive installation artworks at ZKM Karlsruhe Centre for Art and Media (Germany), at Daejeon Museum of Art (Korea), at Museum Art Gallery of Nova Scotia (Canada), at National Centre for Contemporary Arts (Moscow), at Contemporary Art Museum Raleigh (USA), at Bòlit Centre d'Art Contemporani (Girona) and in many international biennals and festivals : Art Center Nabi / INDAF (Seoul), BIACS3 / Biennial International of Contemporary Art of Seville (Spain), Biennial Experimenta (Australia), NAMOC / National Art Museum of China / TransLife / Triennial of Media Art (Beijing), Futuresonic (UK), WRO (Poland), FILE (São-Paulo), ISEA / International Symposium on Electronic Art (2009 Belfast, 2011 Istanbul, 2012 Albuquerque, 2013 Sydney), EXIT, VIA, Lille3000, Ososphere, Scopitone, Seconde nature (France)… during important events : World Expo (Shanghai), Nuits Blanches (Toronto, Halifax, Singapor, Bruxelles, Brighton, Amiens, Segovia, Bucharest), Fête des lumières (Lyon)... and in various art centers : MONA (Australia), MUDAC, Fondation Claude Verdan (Lausanne), Musée Ianchelevici (Belgium), Kibla (Slovenia), Banff Centre (Canada), Villa Romana (Firenze), Utsikten Kunstsenter (Norway), Watermans (UK), Centre des arts d'Enghien-les-Bains, Gaîté Lyrique (Paris) etc.