DA Fest is an international festival that introduces the Bulgarian audience to new artistic practices and significant achievements in the field of digital arts. The festival is organized by the DA LAB Foundation in cooperation with the National Academy of Arts in Sofia.

The only digital arts festival of its kind in the country, together with the strong selection of participants, establish DA Fest as an important and recognizable event on the Bulgarian and international art scene. The rich festival program attracts the interest of a large audience to the most dynamically developing forms of contemporary art.         
       
The ninth edition of the biennial festival will take place from 24 to 28 October 2023 and includes exhibitions, performances, screenings, lectures, presentations, workshops, which will take place in twelve locations in the capital.


Festival Curators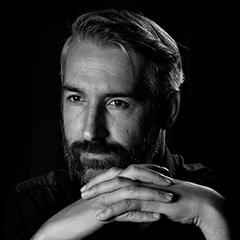 Professor Venelin Shurelov graduated in scenography at the National Academy of Arts, Bulgaria - PhD (2009). Co-founder and lecturer at the Master's program "Digital Arts", National Academy of Arts (2008-); co-founder, co-curator and organizer of DA Fest - International Digital Art Festival (2009-). Co-founder of DA LAB Foundation (2018-), Subhuman Theatre (2004-) and Via Pontica Art Group (2002-2005). Author of interactive installations and performances, including Drawing Machine (2005), Phantom (2008), Orthoman (2009) Tabula Rasa (2010), Shooting Range (2012), Rotor (2016) presented at Ars Electronica Center, Linz. Author of the interactive installation "One Person", site "Mausoleum", Sofia.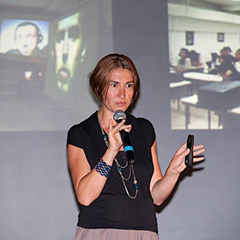 Galina Dimitrova-Dimova has been a curator and organizer of cultural projects for 23 years. She graduated from the National Academy of Arts, Sofia with a Master's degree in Art History and later defended her PhD in the same field (2020). She was a curator and project manager at the Interspace Media Arts Centre in Sofia (1999-2008). After that she worked freelance with many of the active cultural organizations in Bulgaria. Since 2009 she is co-curator and organizer of DA Fest. Project coordinator at Credo Bonum Foundation (2011-2019) and curator of the foundation's gallery (2013-2015). Lecturer in the Master's program "Digital Arts" at the National Academy of Arts since 2016. Co-founder of the DA Lab Foundation, curator and coordinator of the Foundation's projects since 2018.
DA Fest 9 Team
Curators and organizers: Venelin Shurelov and Galina Dimitrova-Dimova
Volunteers' coordinator: Viktoria Kostova
Event Coordinator: Iliana Kancheva
Website Coordinator: Antoni Rayzhekov
PR and online communication: Maya Ivanova 
Media Relations: Didi Spasova / NHA
Accounting: Stanka Kertova
Technical Assistant: Borislav Tonev 
Web Programming: Strategma Agency ltd.